Dear Shareholders,
I hope you are keeping well and safe.
It's my privilege to present the Integrated Annual Report 2020-21 which provides an insight into IndianOil's performance during the last financial year and its ever-expanding horizon of aspirations. Your Company was one of the early adopters of the Integrated Reporting Format in India, and we continue to refine it to create and communicate better value for the stakeholders through multi-capital reporting.
This report chronicles IndianOil's journey during a turbulent year marked by the raging Covid-19 pandemic and elaborates on how your Company navigated through uncharted waters, overcoming all odds and turning challenges into robust growth opportunities. This report also underscores the indomitable spirit of IOCians who, with their commitment, resilience, and a strong sense of purpose, kept the Company going as the 'Energy of India'.
Tiding over challenges, Always
The last year has been an unprecedented and extraordinary year that has altered the course of our lives and livelihoods. Our plans, objectives and even perceptions have undergone a paradigm shift, while the longterm impact of this disruption on various sectors still remains uncertain. However, the course of human evolution teaches us that challenges open up new horizons of growth besides underlining the primacy of specific skill sets and traits for surviving in a postpandemic world. IndianOil teams leveraged opportunities amidst these difficult times to catalyse future growth. Putting the country before business remains an intrinsic part of IndianOil's DNA. So, when the pandemic struck, IndianOil teams rose to the occasion swiftly and selflessly, serving the customers and stakeholders, despite disruptions in the demand and supply dynamics. Displaying extraordinary zeal, Team IndianOil kept the fuel supply lines going and delivered a record 33.11 Lakhs Indane LPG cylinders on a single day, on 30th April 2020, braving the pandemic and a stringent lockdown.
Our energy warriors - the customer attendants, LPG delivery personnel, truck crew, contract workers, field force, and employees at supply locations, refineries, pipelines and petrochemical plants kept the nation on the go. Moreover, not losing sight of the future, your Company continued to steer the growth agenda with new customer offerings, innovative digital solutions, infrastructure expansion and low carbon, sustainable energy options for a greener planet.
Your unwavering faith in your Company, coupled with the stupendous efforts of all IOCians, has helped us scale a historic peak with the highest ever profits during 2020-21
The last financial year has been a perfect guide in demonstrating the importance of team-resolve in tiding over challenges. Your Company not only surmounted the pandemic crisis, but it also rose to the occasion to thwart major threats and chart new paths of excellence.
On 3rd September 2020, the engine room of the Panama-flagged Very Large Crude Carrier (VLCC), MT New Diamond, carrying nearly two million barrels of Kuwait Export Crude Oil for Paradip Refinery, caught fire. The accident happened when the oil tanker was sailing east of the Sri Lankan seas. Our teams immediately swung into action and set up a 24-hour disaster control room, monitored by senior IndianOil officials. This control room facilitated communication among various stakeholders and coordinated firefighting efforts with the concerned authorities in India, Sri Lanka and other geographies. A rescue operation was swiftly launched on international waters by the Indian Coast Guard, Navy and their Sri Lankan counterparts, supported by the salvagers and other maritime agencies. It took nearly a week of remarkable efforts to douse the blaze and avert a major environmental disaster. This incident displays the power of focused and collaborative actions to overcome a crisis and emerge stronger as a Company driven by values.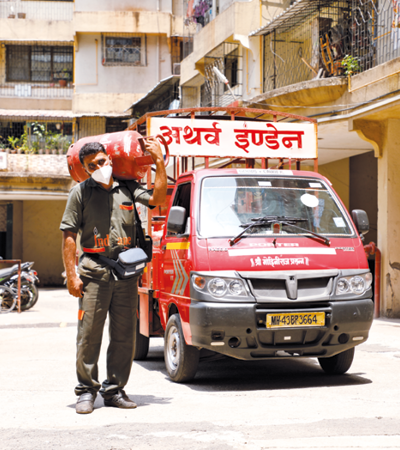 IndianOil frontline workers braved all odds to ensure energy supplies to every household
Record profit, driven by 'People'
Taking the multiple challenges in its stride, your Company cruised ahead, riding on the strength of dedicated teams, a broad customer base, channel partners and frontline associates, working cohesively. I am happy to share with you that our strong focus on consolidating the core business while exploring new and sustainable energy frontiers has yielded positive outcomes. This success has taken us closer to our goal of being an integrated, futureattuned energy major that continues to catalyse the nation's growth story.
Your unwavering faith in your Company, coupled with the stupendous efforts of all IOCians, has helped us scale a historic peak with the highest ever profits during 2020-21.
People First, Always
As Team IndianOil battled the invisible enemy at the frontlines, the brutality of the ongoing Covid-19 pandemic amplified the fragility of human life. IndianOil stands firmly with the families of IOCians and our large stakeholder fraternity, who suffered losses in the wake of the pandemic.
IndianOilPeople are central to our existence, and we remain committed to ensuring their well-being and prosperity. Your Company has extended the IndianOil Karma Yogi Swasthya Bima Yojana for the second year running, for the frontline teams. This medical insurance covers over 3 Lakhs customer attendants, LPG delivery personnel, tank truck crew and security guards. An exgratia assistance of Rupees Five Lakhs has also been extended for the families of the energy soldiers who succumbed to the Covid-19 virus while serving the nation's energy needs.
With the vaccine emerging as the best bet to counter the coronavirus, your Company has taken the responsibility to facilitate vaccination for this 4.2 Lakhs strong stakeholder family.
Crafting a new energy future
With more than 1.3 billion people, India is home to 18% of the global population but accounts for a mere 7% of the world's energy demand. This vast gap, coupled with the rising aspirations of Indians for improved living standards, will be the key driver of the country's energy demand. As a result, India is set to experience the fastest growth in energy consumption among all large economies. To cater to this exponential demand growth, we need a more comprehensive, diverse energy basket where traditional offerings like coal, oil, and natural gas coexist with bioenergy and renewables. Each energy form has its role cut out in fuelling the emergent nation that is the world's thirdlargest oil consumer. I want to assure you that IndianOil's growth agenda reflects this diversity and translates into refinery expansions as well as scaling up renewables and alternative fuel options.
Your Company is pacing ahead to energise the nation and strengthen the four pillars of India's energy future as envisioned by the Hon'ble Prime Minister - Energy access, Energy efficiency, Energy sustainability, and Energy security; at the same time ensuring Energy justice with the objective of access to safe, affordable and sustainable energy for all citizens. In addition, the post-Covid world will witness a renewed consensus on urgent climate action with a more significant push for sustainable solutions. So, while the aspirations of our nation are unique, the commitment towards a low carbon economy remains steadfast.
A new era of customer service excellence
For a Company with one of the most extensive customer interfaces, we constantly endeavour to make today's customer experience better than yesterday's. Each of our offerings reflects this resolve.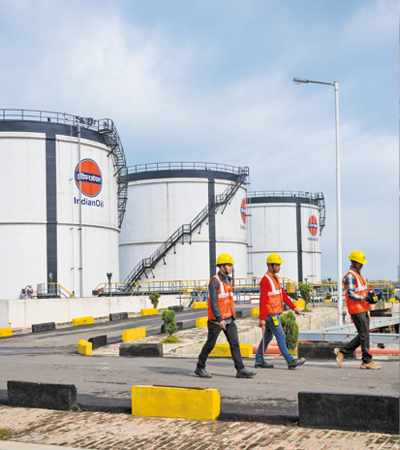 IndianOil, pacing up expansion initiatives to energise the nation

Chairman Shri S. M. Vaidya, motivating the frontline workers to ensure customer delight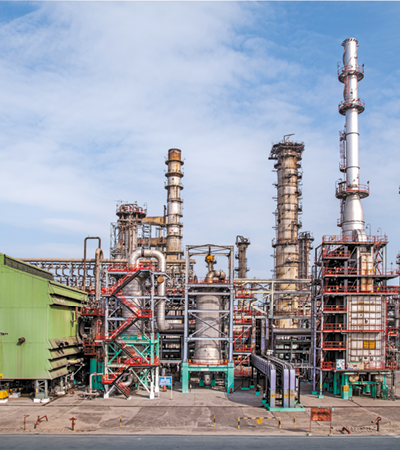 IndianOil, building on Energy Access, Energy Efficiency, Energy Sustainability and Energy Security
With the launch of XP100, India's only 100 octane petrol, the country zipped into an elite league of nations that offer such high-tech fuel for their customers. We also rolled out the differentiated, fuel-efficient cooking gas offering, Indane XtraTej. The convenient, 5 Kg Free Trade LPG cylinder relaunched as 'Chhotu' has been a game-changer in the segment, marking an almost 50% increase in sales over the corresponding period last year. We have recently launched two premier customer-centric offerings, Combo Cylinder (offers 14.2 Kg LPG cylinder with Chhotu as Double Bottle Cylinder) and the Composite Cylinder, an aesthetic, light-weight, value offering for a modern kitchen.
Leveraging digital innovation, your Company has introduced a host of user-friendly options to make LPG more accessible and easier to avail. From 'asking Alexa' to book your next refill to registering for a new connection through a missed call, we are offering an array of digital delights for our customers. Further, we are now in the process of launching the 'Tatkal' delivery of LPG refill at the customers' doorsteps within two hours of booking in select cities. For enhancing supply logistics, bottling plants at Goindwal Sahib, Tirunelveli, and Gorakhpur were commissioned, and three bottling plants at Nagpur, Korba and Jabalpur have also been completed during the year. I am sure that these customer convenience initiatives, shored up by a robust supply chain, will play a crucial role in retaining the leadership of Indane as the most preferred kitchen fuel in the country.
Retail remains the focus for your Company, and all-out efforts are being made to strengthen its market leadership. The commissioning of 3000 fuel stations during the last fiscal year has been the highest yearly number ever achieved in the history of IndianOil, taking our total tally to 32,062 fuel stations.
I'm happy to share that our strategy of unlocking the value and optimum potential of each product offering has yielded fruitful outcomes. The lube oil segment has come out with brilliant results during the fiscal year, registering growth in sales by around 25% and a spectacular 100% rise in the bottom line. Recent endeavours like the state-of-theart Lube Blending Plant at Kolkata and Trombay, a CIDW (Catalytic Iso-Dewaxing) unit at Haldia Refinery, LuPech (Lube- Petrochemical) project at Gujarat and the recently approved Panipat expansion project, are in sync with the Company's focus on unlocking the potential of the high-margin lubes segment.
Underground energy highways
The Pipelines Division of your Company has achieved the milestone of 15,000 km pipeline network length, with the commissioning of the 144 km Ramanathapuram - Tuticorin section of the 1,444 km long Ennore – Thiruvallur – Bengaluru – Puducherry – Nagapattinam – Madurai - Tuticorin (ETBPNMT) Natural Gas pipeline. This section was dedicated to the nation by the Hon'ble Prime Minister Shri Narendra Modi in February 2021. Earlier, Shri Modi had also inaugurated the Durgapur - Banka LPG Pipeline in September 2020. In addition, our Pipelines Division is also providing EPMC (Engineering, Procurement, Construction Management) service in laying the world's longest 2809 km Kandla - Gorakhpur LPG pipeline (KGPL).
New horizons of refining excellence
IndianOil refineries during the financial year have achieved total crude throughput of 62.4 MMT against a target of 72.4 MMT, the shortfall being mainly due to Covid related disruptions.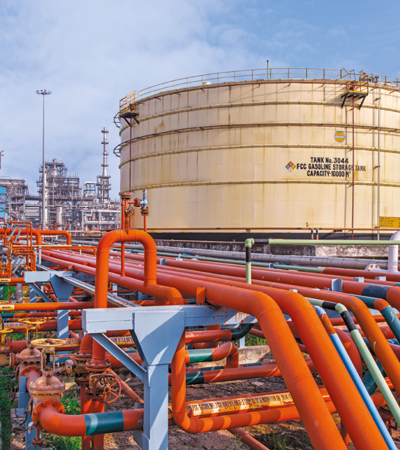 IndianOil owns and operates over 15000 kms of pipelines to reach its energy supplies to the customer touch points
Speaking of another positive, the Petrochemicals vertical is continuously scaling new heights and has emerged as a silver lining to cushion our business against the risks of oil price volatility. Besides achieving a record annual Petrochemical sale of 2.68 MMT, we also expanded the basket of offerings, adding an array of niche grades. Currently, the Petrochemical spreads are high and your Company is focused on maximising production at Panipat and Paradip to reap maximum benefit.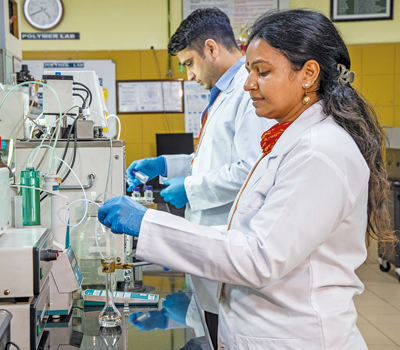 Innovation is a continuous process, that IndianOil relies on, to be future-ready
As part of the larger vision, refinery expansion, coupled with value-added products and petrochemical integration, are the cornerstones of your Company's growth strategy. This year we have taken crucial mega-investment decisions - 9 MMTPA greenfield refinery at Nagapattinam in Tamil Nadu through a Joint Venture with CPCL, Panipat Refinery expansion from 15 to 25 MMTPA and Gujarat Refinery expansion from 13.7 to 18 MMTPA. All refinery expansion and petrochemical integration projects viz. PX-PTA at Paradip and Ethylene Glycol at Paradip (Odisha) and Oxo Alcohol project at Dumad (Gujarat) are on track. The newly approved projects translate into an investment commitment of close to Rupees One Lakhs Crore over the next 4 to 5 years. This concerted drive will surely catapult your Company into a higher growth trajectory.
The past few months have witnessed several projects getting commissioned. Commissioning of INDMAX and PrimeG units at Bongaigaon unit contribute to increasing refinery capacity from 2.35 to 2.7 MMTPA. Infrastructure development to facilitate grid power import at Gujarat Refinery, three additional crude oil tanks at Paradip Refinery etc., have also been completed. Besides these, Gas integration in IndianOil's Refineries is also being pursued.
Capex achieved against all odds
Ramping up project work amidst the raging pandemic while ensuring 100% compliance of all health advisories was a significant challenge. But I am happy to share that building upon the vision of an 'Aatmanirbhar Bharat', IndianOil has successfully surpassed the Capex target for the year.
Cutting edge R&D: Towards a Sustainable Tomorrow
IndianOil's R&D Center has been undertaking pioneering research, and our IP (Intellectual Property) wealth creation has resulted in 1,165 effective patents, which is the highest amongst PSU Oil and Gas companies in India. This year we are celebrating the Golden Jubilee year of R&D Centre. To coincide with this important milestone, we are in the process of expanding R&D set-up at Faridabad by constructing a second campus with an investment of H 3,200 Crore. This new campus will support cutting-edge research in futuristic alternative energy domains and fast-track our journey towards a net-zero goal. It shall be built over an area of about 59 acres and would focus on demonstration and deployment of various futuristic technologies developed by IndianOil R&D.
As the 'Energy of India', your Company shall leverage its R&D prowess to play a pivotal role in India's journey towards a greener tomorrow. Today, I can confidently say that our R&D Centre has evolved into a world-class technology solution provider. With the successful deployment of various indigenous technologies, Team R&D has also contributed to the vision of an 'Aatmanirbhar Bharat'.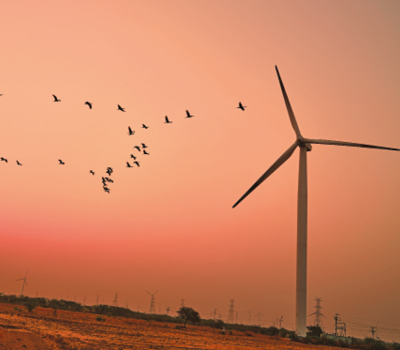 Sustainable growth is the key focus area of IndianOil
IOCians worked relentlessly during lockdown to ensure uninterrupted supplies across the nation
I firmly believe that Hydrogen will be the ultimate sustainable fuel of the future. To realise this vision, IndianOil R&D has played a pioneering role in supporting the exciting journey of Hydrogen and Fuel Cell research. In October 2020, IndianOil carried out a trial in Delhi, where 50 CNG BS-IV buses were run on Hydrogen spiked CNG (HCNG) fuel. The results have been quite promising. The use of HCNG fuel has shown a drop in emissions & improvement in Fuel Efficiency. Taking the juggernaut forward, your Company is setting up pilot plants using four innovative hydrogen pathways.
Moreover, your Company will be doing trial run with 15 fuel cell buses in the Delhi NCR region. We also intend to seed Hydrogen fuel cell mobility by utilising the surplus Hydrogen from Gujarat Refinery. The first set of buses will soon ply from Gujarat Refinery to the Statue of Unity and Sabarmati Ashram.
I would also like to elaborate on how IndianOil has been reconciling its business objectives with national priorities through a sharpened focus on bioenergy and renewables. Under the ambitious SATAT (Sustainable Alternative Towards Affordable Transportation) scheme on CBG (Compressed Biogas), IndianOil has taken significant strides and awarded 1,456 Letters of Intent (LOI) till June 30 2021. We have also initiated marketing of CBG from 12 Plants through 23 retail outlets spread over eight states, with a total sale of 1907 MT of CBG till June 30, 2021. For the record, we are the only Oil Marketing Company offering CBG under the brand name 'IndiGreen' since the launch of the SATAT programme.
Producing biodiesel from Used Cooking Oil (UCO) is yet another potential route that's also being explored by your Company, with 22 LOIs being issued for an annual cumulative capacity of 22 Crore litres. Presently, your Company has a portfolio of 232.95 MW of renewable energy, including close to 170 MW of wind capacity. The total generation from the above renewable energy projects during 2020-21 is 329.45 GWh, which resulted in emission mitigation of 260 TMT of CO2e equivalent.
In yet another futuristic initiative, a Joint Venture, IOC Phinergy Private Limited has been forged between IndianOil and the Israeli Company, Phinergy, to commercialise the Aluminium-Air Battery Technology in India. We have also set up 257 EV Charging Stations and 29 battery swapping stations at our energy pumps across the country.
Embracing the power of digitalisation
During the India Energy Forum CERAWEEK held in October 2020, Hon'ble Prime Minister had underlined seven critical pillars of India's energy strategy. One of the key drivers among these seven pillars is "Digital Innovation across all the energy systems". Aligning with the Prime Minister's vision, your Company has been implementing various digital initiatives to enhance energy efficiency, reliability, and performance while contributing to environmental sustainability. At IndianOil, we declared the year 2020 as the 'Year of Digitalisation', and I firmly believe that our digital initiatives will ensure business continuity in a manner that is compatible with the ecological and economic needs of the communities in which we operate.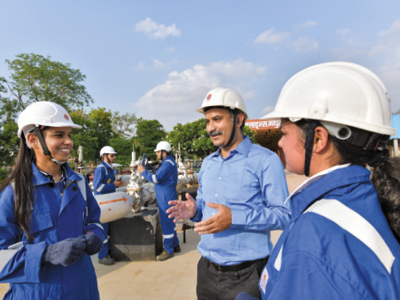 IndianOil, fostering gender neutrality within the Corporation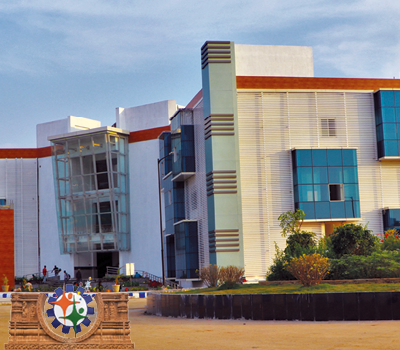 Skill Development Institute at Bhubaneswar - Shaping young minds
Last year, we heralded in a slew of digital initiatives at IndianOil. I have already touched upon few pioneering offerings to enhance the experience of our customers. Let me now elaborate on a few other path-breaking efforts. In a novel reliability improvement initiative, IndianOil and BHEL GE Gas Turbine Services Private Limited have implemented the first of its kind Remote Monitoring of Gas Turbines across all IndianOil refineries to enhance refinery reliability. We have also initiated the digital transformation of the turnaround processes in all nine IndianOil refineries. This is aimed at optimising productivity, quality and safety metrics by integrating the field workforce with technology.
Digitalisation has been an effective tool for enhancing employee engagement through learning, which has become a buzzword in the Company today. The digital learning platform of Swadhyaya designed for IndianOil employees has kept our workforce gainfully engaged during the lockdown period, and with the growing popularity of Swadhyaya, today, your Company has indeed become a learning organisation. We recently reached the milestone of a million courses completed by employees on the digital platform, reflecting the readiness of IOCians to embrace digital transformation.

In line with its varied customer base, IndianOil launched several new products during the year
Caring for the society and women empowerment
A strong social conscience has always driven your Company, which is reflected in our social stewardship initiatives. Women welfare and empowerment has been a focus area for our recent CSR endeavours. We have introduced a one-time educational scholarship of ₹ 10,000/- each for 75 girl students across 33 Education Boards from the economically backward and socially marginalised sections excelling in the Board examinations. Also, the Skill Development Institute's (SDI) pilot Campus in Bhubaneswar has benefited about 2,300 students since its inauguration in 2016. This institute, driven by IndianOil, aims to skill over 50,000 students in the next ten years. You will be happy to know that the new 46-acre main campus of SDI has been completed and will soon be commencing regular academic sessions.
Let me also share that your Company acknowledges the need for a gender-diverse work environment in today's world. The Covid-19 crisis has highlighted the centrality of women's contributions and the added responsibilities women continue to carry on the professional and domestic fronts. Women in IndianOil have been shining examples of corporate excellence, and their contributions have strengthened the cause of gender-neutral work culture in the Indian corporate ecosystem. Your Company has continuously supported its women professionals' career progress by building a conducive environment through various efforts and initiatives related to their health, safety, gender sensitisation, and empowerment. This International Women's Day, several facilities were rolled-out to empower women employees, like providing travel fare for infants of up to two years of age and an attendant when the working mother is touring any location within India.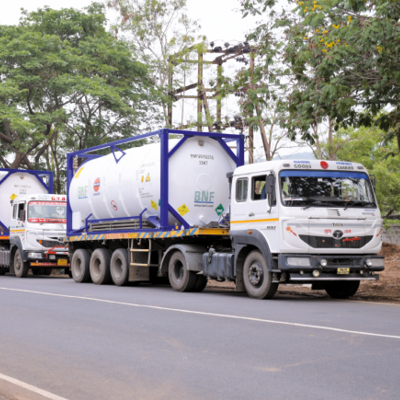 IndianOil, keeping the nation ahead, always. Supply of Liquid Medical Oxygen across the nation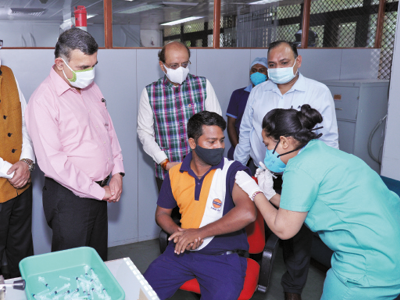 IndianOil is ensuring that all its frontline workers are vaccinated against Covid-19
Serving the nation, beyond business
When the second wave of Covid-19 started sweeping across the nation, your Company went beyond business priorities to leverage its expertise to help the country in the hour of need. When faced with a massive surge in demand for medical oxygen across the nation, IndianOil diverted the highpurity oxygen used in its Mono Ethylene Glycol (MEG) Unit at its Panipat Refinery and Petrochemical Complex to produce medical-grade liquid oxygen. The throughput of the MEG unit was scaled down to divert much-needed oxygen to serve this more critical cause.
Moreover, inspired by the zeal to serve the nation, your Company supported the Government in creating a robust infrastructure for Liquid Medical Oxygen (LMO) transportation in the country. IndianOil deployed over 100 ISO containers and tankers and transported around 5000 MT of LMO from various sources. Further, your Company is rapidly expanding this fleet to enhance the carrying capacity. IndianOil also imported 500 MT of LMO during this period and coordinated with the Indian Missions in West Asia for the procurement. In addition, IndianOil is manufacturing 20 cryogenic road tankers at its cryogenic plant in Nasik.
To further streamline the medical oxygen supply scenario, IndianOil has launched a single-window application – Sanjeevani Express portal. This application is equipped to enable realtime monitoring of liquid oxygen supply logistics across the country. The single window platform has been created to help all stakeholders, including the Ministry of Road Transport and Highways (MoRTH), Oil companies and other Central and State Government agencies. In May 2021, Union Minister of Petroleum & Natural Gas and Steel inaugurated the 100-Bed ICU Ventilator facility at Vikash Multi-Specialty Hospital (VMSH) in Bargarh, Odisha, augmented under IndianOil's CSR initiative. In yet another initiative, IndianOil's Panipat Refinery began supplying 15 MT gaseous Oxygen per day to the Guru Teg Bahadur Sanjeevani Hospital for Covid care through a pipeline directly from our Panipat complex.
A future-ready IndianOil
Worldwide, the most significant overall long-term challenge is to supply clean and affordable energy while addressing the concerns related to climate change. Therefore, the next few years will be crucial for the energy sector and let me affirm that IndianOil is geared up to cater to the new energy order of the future.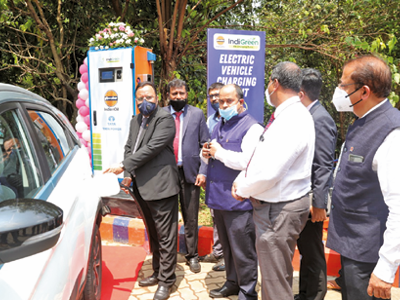 A Jubilee Retail Outlet with EV charging facility in Kerala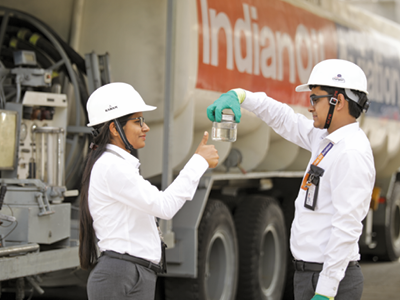 Laying strict emphasis on quality and quantity checks at IndianOil
India, like several other countries, is in the midst of an energy transition. There will be a continuity of energy consumption patterns, but a profound change in the energy mix is inevitable as we integrate renewables more intensely. For a country like India with high energy appetite, the path towards energy transition will involve balancing our enthusiasm for the future with the reliability of the old order. Given the magnitude of incremental energy required in addition to meeting existing needs, the dovetailing of new greener energy options in a requisite scale and scope is needed to offer sustainable choices for a smooth changeover.
IndianOil has been working in mission mode to meet the rapid growth of the nation's energy needs while pursuing the aspiration for a greener tomorrow. We have been investing assiduously across various facets of the energy spectrum. Be it Natural Gas, Renewables or Biofuels, our teams have been working on cutting edge fields of Hydrogen, CCUS (Carbon Capture, Utilisation & Storage), advanced biofuels and battery technology. The recent paradigmshifting experience with the Covid-19 pandemic has strengthened our resolve to go quicker and bigger on new energy bets. This Integrated Annual Report enumerates your Company's concerted drives to diversify into cleaner energy forms with high growth opportunities while pursuing downward integration into petrochemicals.
To sum up, IndianOil continues to fuel the aspirations of a billion Indians and remains steadfast to the national mandate for a greener India and a safer planet. I solicit your support as we chart our path towards a brighter energy future!
Stay healthy, stay safe!
sd/-
Shrikant Madhav Vaidya
Chairman, IndianOil