Refinery Turnaround Maintenance Management
IndianOil has a systematic approach to turnaround management (TAM) system and has developed excellent expertise in execution of shutdowns. Based on IndianOil's experience of successfully carrying out TAMs of over 200 process units in its different refineries for over five decades, IndianOil is equipped to provide world-class technical support for management of TAM. As part of its services to clients, IndianOil also provides its services for Refinery Turnaround Maintenance Management.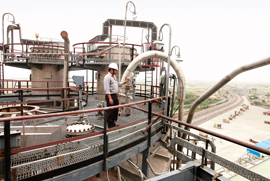 IndianOil is the only organization in India with an extensive experience of performing the TAM of the entire refinery at one go that includes all the Process Units, Utilities, Off-sites, etc., simultaneously. Such a concept requires enormous resources in terms of manpower, material & equipment, along with a scientific way of executing TAM, utilizing advanced tools and tackles, user friendly software packages in multi-user environment, effective communication facilities amongst the coordinators, stringent safety standards, etc
A meticulous plan, integrating all aspects of jobs, is drawn and is monitored on day-to-day basis with an hourly schedule. Monitoring software like MS Project, Primavera for planning, scheduling, monitoring & control are used extensively. These software are used for generating daily status and exception reports on a number of criteria such as activities due for start but not started, activities due for finish but not finished, effect of delay in completion of critical and non-critical activities on shutdown completion schedule. In the event of delay/unanticipated work, catch-up plans are made to meet the overall schedule.
Contact Us

Sandeep Jain
Executive Director
Business Development

Indian Oil Corporation Limited
IndianOil Bhavan
1, Sri Aurobindo Marg,
Yusuf Sarai,
New Delhi - 110016
011-26524707
sandeepjain[at]indianoil[dot]in