Panipat Refinery (Near Delhi)
Panipat Refinery: Changing Horizons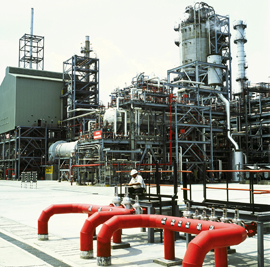 Panipat Refinery is lndianOil's seventh and the technically most advanced public sector refinery complex of India.In a sprawling area of around 4222 acres of land, Panipat Refinery & Petrochemical complex is located in the historic district of Panipat, meeting the demand of petroleum products not only in Haryana, but in the entire North-Western region, including Punjab, J&K, Himachal Pradesh, Chandigarh, Uttarakhand, and parts of Rajasthan, U.P. and Delhi.
It has a capacity to process a wide range of both indigenous and imported grades of crude oil.
Setup with an initial installed capacity of 6.0 MMTPA in 1998, lndianOil's Panipat Refinery has grown up using world-class technology from Axens France; Haldor-Topsoe, Denmark; UNOCAL/UOP, USA; Stone & Webster, USA; Lummus Global, USA and Technip, Netherlands.
The major secondary processing units of the Refinery include Catalytic Reforming Unit, Once Through Hydrocracker unit, Resid Fluidised Catalytic Cracking unit, Visbreaker unit, Bitumen blowing unit, Sulphur block and associated Auxiliary facilities. In order to improve diesel quality, a Diesel Hydro Desulphurisation Unit (DHDS) was subsequently commissioned in 1999.
With a view to meet the growing deficit of petroleum products, especially in the Northern region of the country, the capacity of Panipat Refinery was expanded to 12 MMTPA in June, 2006 and again augmented to 15 MMTPA in December, 2010. Further, to meet the potential demand, there is a plan to augment capacity to 25 MMTPA soon.
To meet environmental standards complying with Euro-III/IV norms for petrol, the MSQ project was commissioned in December, 2009. Panipat Refinery was the first among IndianOil refineries to switch over from BS-III fuels to more eco-friendly BS-IV fuels. To fulfil the Company's promises made towards keeping the environment clean and green, the refinery started BS-VI quality fuel supply to the National Capital Territory (NCT), Delhi, with effect from 1st April, 2018 and most parts of National Capital Region (NCR) in the year 2019. The refinery will join all other IndianOil refineries to supply this clean fuel across India by 1st April, 2020.