Petrochemicals

India is amongst the fastest growing petrochemicals markets in the world. Taking this into consideration and to enhance its downstream integration, IndianOil is focusing on increasing its presence in the domestic petrochemicals sector besides the overseas markets through systematic expansion of customer base and innovative supply logistics.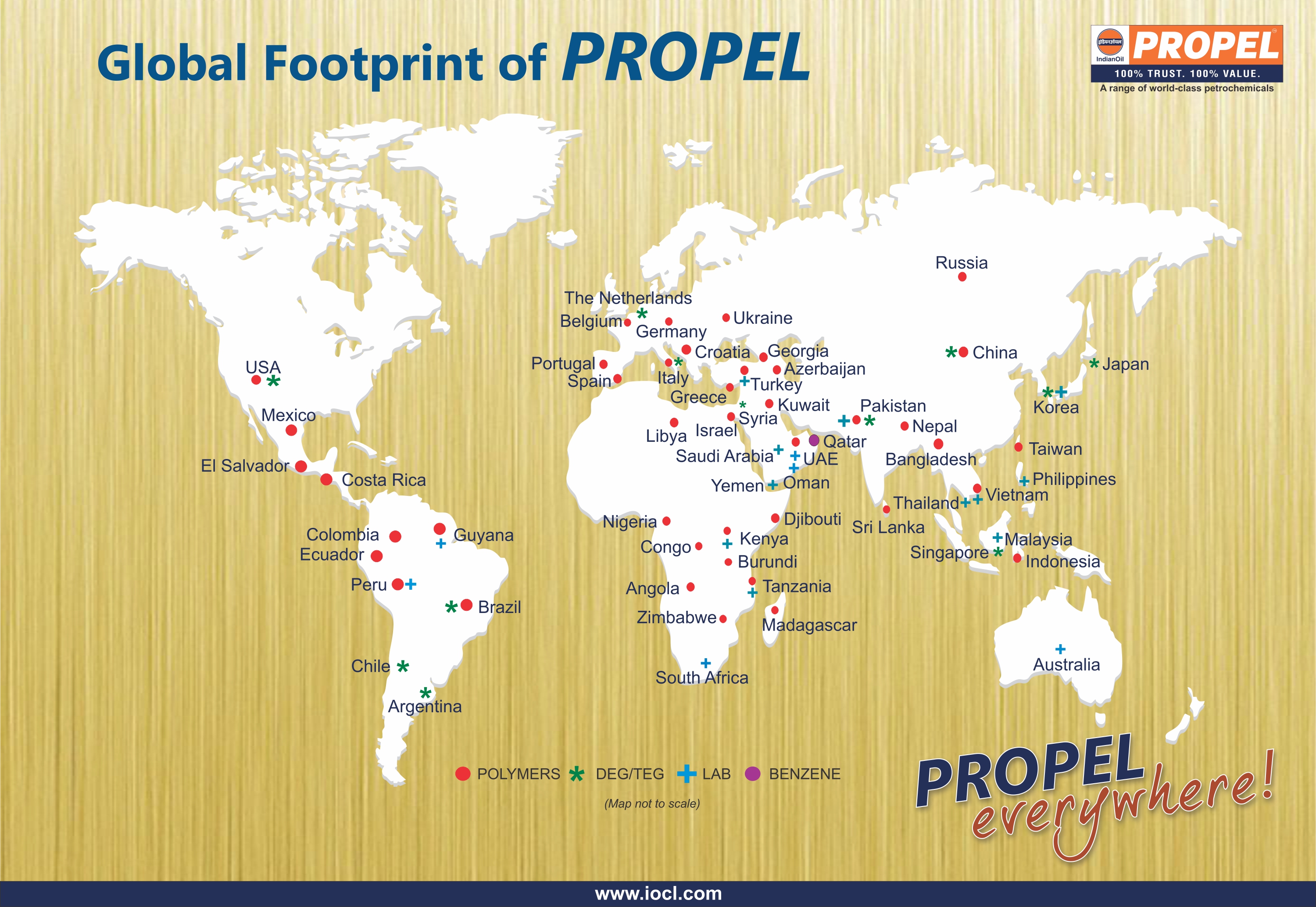 Petrochemicals have been identified as a prime driver of future growth by IndianOil. The Corporation is envisaging an investment of Rs 30,000 crore in the petrochemicals business in the next few years. These projects will utilise product streams from the existing refineries of IndianOil, thereby achieving better exploitation of the hydrocarbon value chain.
IndianOil has set up a world-scale Linear Alkyl Benzene (LAB) plant at Gujarat Refinery and an integrated Paraxylene/Purified Terephthalic Acid (PX/PTA) plant at Panipat. A Naphtha Cracker complex with downstream polymer units is also in operation at Panipat. IndianOil has recently come up with Polypropylene plant at Paradip, Odisha.
These initiatives are designed to catapult IndianOil among the top three petrochemicals players in Southeast Asia in the long term.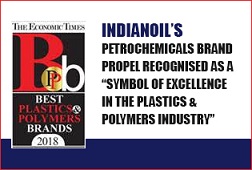 In order to penetrate the petrochemicals market effectively, a separate Strategic Business Unit (SBU) has been created in IndianOil for marketing of petrochemicals. This SBU has five exclusive sub-groups, classified product wise (LAB, Aromatics & Chemicals, Polymers) and function wise (Logistics & Exports), in addition to regional/field set-ups to offer reliable customer service. This SBU has already established IndianOil's LAB business both in India and abroad. Today, IndianOil is a major supplier to the key players in the detergent industry, both national and international. Similarly, in PTA business, all major domestic customers are catered to by IndianOil. IndianOil is catering to polymer industry in domestic as well as international level. This SBU is exporting products to 76 countries. A robust logistics model has been the key to IndianOil's success story and facilities have been put in place for seamless product dispatches to customers by rail, road and sea.



Mega Plants:
---
Linear Alkyl Benzene (LAB) plant, Gujarat Refinery:
IndianOil made its big-ticket entry into petrochemicals with the commissioning of the country's largest Linear Alkyl Benzene (LAB) plant at Gujarat Refinery in August 2004. It is also the largest grassroots single train Kerosene-to-LAB unit in the world, with an installed capacity of 1,20,000 metric tonnes per annum (MTPA). Currently, two grades of LAB - HMW (high molecular weight) and LMW (low molecular weight) are being produced for manufacture of environment friendly biodegradable detergents. The quality of the LAB produced here has found wide acceptance in the domestic and overseas markets.
Built at a cost of Rs. 1,248 Crore and commissioned in a record 24 months' time, the plant produces superior quality LAB for manufacturing environment-friendly biodegradable detergents. The key raw materials for the plant, catering to domestic as well as export market requirements meeting the latest and most stringent quality standards, are Kerosene and Benzene produced at Koyali Refinery.
Paraxylene/Purified Terephthalic Acid (PX/PTA), Panipat: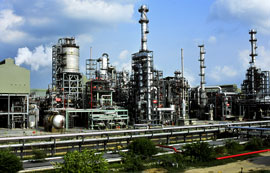 The most technologically advanced plant in the country, the PX/PTA plant marks IndianOil's major step towards forward integration in the hydrocarbon value chain by manufacturing Paraxylene (PX) from captive Naphtha and thereafter, converting it into Purified Terephthalic Acid (PTA).
The PTA Plant is the single largest unit in India with a world-scale capacity of 5,53,000 MTPA, achieving economy of scale. The process package for the PTA plant was prepared by erstwhile M/s Dupont, UK (now M/s. Invista) and that of the Paraxylene Unit was prepared by M/s UOP, USA. M/s EIL and M/s Toyo Engineering were the Project Management Consultants (PMC) for executing the PTA and PX respectively.
The Paraxylene plant is designed to process 5,00,000 MTPA of heart-cut Naphtha to produce about 3,60,000 MTPA of PX. Naphtha is sourced from IndianOil's Panipat and Mathura refineries, for which Naphtha splitter units are set up at the respective refineries. The PTA unit produces 5,53,000 MTPA of Purified Terephthalic Acid from Paraxylene.
Naphtha Cracker Plant, Panipat: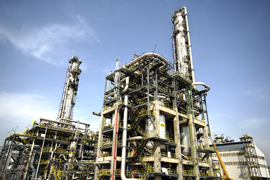 Continuing the foray of Make in India initiative and horizontal integration in the Hydrocarbon value chain, IndianOil established a world scale Naphtha Cracker plant.
India's one of the largest world-class Panipat Naphtha Cracker, built at a cost of Rs.14,439 Crore was commissioned in January, 2010. lndianOil's People, with dedication and determination, completed the construction and commissioning of the project in a record time of 46 months. It's flawless commissioning compares itself with the best in the world.
The Plant is designed to synergize with existing Panipat Refinery. The feed for the unit is sourced internally from IndianOil's Koyali, Panipat, Barauni and Mathura refineries. The Panipat Naphtha Cracker complex comprises the following downstream units - Polypropylene Unit (Capacity: 600 KTA), High-Density Polyethylene Unit (HDPE) (capacity: 300KTA), Swing Unit (350 KTA, Linear Low-Density Poly Ethylene with HDPE), Mono Ethylene Glycol (MEG) plant (capacity: 325 KTA), Butadiene Unit (130KTA) and Butene unit (20 KTA). KTA is thousand tons per Annum The cracker produces over 800 KTA per annum of ethylene, 600 KTA of Propylene, 130 KTA of Benzene, and other products viz. Pyrolysis Fuel Oil, components of MS,LPG, Diesel etc.
The Polypropylene (PP) unit is designed to produce high quality and high value niche grades including Bi-axially Oriented Polypropylene (BOPP) (used for food packaging and laminations), high clarity random copolymers (used for food containers and thin walled products) and super impact copolymer grades (used for batteries, automobile parts, luggage and heavy duty transport containers). Polyethylene is used for making injection moulded caps, heavy duty crates, containers, bins, textile bobbins, luggage ware, thermoware, storage bins, pressure pipes (for gas and water), small blow-moulded bottles, jerry cans, etc. Butadiene is used for making of synthetic rubber.
Polypropylene Plant, Paradip:
Indian Oil has set up a world class 700 KTA Polypropylene Plant based on standard propylene from the Indmax (high severity FCC) unit at a cost of Rs. 3150 crore at Paradip, Odisha to support plastic industry of Eastern Region. Commissioned in June 2019, Paradip PP plant is designed to produce Homopolymer grades for Injection Moulding, Raffia, Biaxially Oriented PP, TQ Film, Fiber & Filament and Extrusion Coating etc
Major Facilities:
---
Product Application Development Centre (PADC), Panipat:
Located in the vicinity of sprawling Naphtha Cracker Complex in Panipat, the state-of-art Production Application Development Centre (PADC) promotes commercial application and customer oriented development of the niche grades and new applications, quality monitoring, technical support and customer relationship management. As an interface between the Company's Polymer plants at Panipat, its marketing set-up and end-use customers, PADC develops new applications, formulations and grades that are in sync with market needs. It is recognized by the Department of Scientific and Industrial research (DSIR), ministry of Science & technology, Govt. of India and certified by M/s. ICS.
Product Application Development Centre (PADC), Paradip:
IndianOil has come up with another state-of-art PADC near the Polypropylene plant at Paradip Refinery in 2019 to cater the requirements of customers in the region and strengthen already available similar facility at Panipat. This facility will also be a support system to upcoming Plastic Park at Paradip and Textile Park at Bhadrak.