Awards and Recognitions
Mr A K Singh Director (Pipelines) received the Pipeline Transportation Company of the Year Award from Hon'ble Union Minister of Petroleum, Natural Gas & Steel, Mr Dharmendra Pradhan for our performance in pipeline operation through higher throughput and reduction in operating cost while ensuring safety & security of assets.
Team IndianOil won the Team Innovator of the Year Award at FIPI Oil & Gas Awards 2020. On behalf of the Team, Dr SSV Ramakumar, Director (R&D) received the award from Hon'ble Union Minister of Petroleum, Natural Gas & Steel, Mr Dharmendra Pradhan for development & successful commercialization of high performance INDICAT PRIME DHDT catalyst.
Team IndianOil was honoured for successfully adopting and using digital technologies for achieving a strategic advantage in their core business domains. Mr Sandeep Kumar Gupta, Director (Finance) received the award from on being adjudged as the Digitally Advanced - Company of the Year from Hon'ble Union Minister of Petroleum, Natural Gas & Steel, Mr Dharmendra Pradhan.
Date:29/01/2021
IndianOil bags the BML Munjal Award for Sustained Excellence
IndianOil has been declared as Winner under the Sustained Excellence Category for the year 2020 at the 15th Edition of the BML Munjal Awards.


READ MORE +
BML Munjal Awards, instituted in 2006 are among India's most prestigious awards in the corporate landscape that recognises and honours innovations in the area of skill and development and acknowledge organisations that e?ectively harness employee talent through training and learning to gain competitive advantage. Sustained Excellence is an exclusive Award Category to recognise performance consistency in the space of learning and development.
Date:21/02/2021
IndianOil conferred with PRSI Award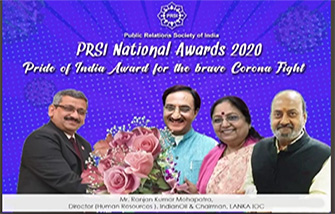 Mr Ranjan Kumar Mohapatra, Director (HR), IndianOil, has been conferred with the "Pride of India Award for the brave Corona Fight" by the Public Relations Society of India. Under this special category, PRSI recognised the leaders whose vision contributed immensely in tackling the threats associated with the pandemic.
Date:29/10/2019
IndianOil conferred with National CSR Award

Ms. Nirmala Sitharaman, Minister of Finance and Corporate Affairs, conferred IndianOil with the prestigious National CSR Award. The award was received by Mr. Sanjiv Singh, Chairman, IndianOil and Mr. Ranjan Kumar Mohapatra, Director (HR), IndianOil, in recognition of Corporation's mega CSR project, Assam Oil School of Nursing in Digboi.


READ MORE +
IndianOil's Assam Oil School of Nursing project covers 9 cities and 47 districts of Assam with enrollment of 60 students per year for courses in nursing & midwifery. Since School's inception in 1986, 410 students have successfully completed the course with 100% placement record.
Date:14/01/2020
IndianOil wins Best PSU/Corporate House for Promotion of Sports
IndianOil Corporation has been awarded the Best PSU/Corporation for the Promotion of Sports at the annual Sportstar ACES Award ceremony in Mumbai.


READ MORE +
IOCian and India opener Rohit Sharma was adjudged best Sportsman of the Year (Cricket).
Padma Bhushan and Dronacharya Awardee Pullela Gopichand was honoured as the Coach of the Year.
Mr.Ranjan Kumar Mohapatra, Director (Human Resources), received the honour on behalf of the Corporation.
Speaking on the occasion, Mr. Mohapatra said, "IndianOil takes pride in promoting sports in a big way. We recognise sports as a tool for holistic development. Budding sportspersons are recruited in their formative years, and many of them have gone on to win laurels for the country and Corporation.
"IndianOil has identified ten games as its thrust area: Cricket, Hockey, Badminton, Tennis, Table Tennis, Golf, Billiards/Snooker, Athletics, Chess & Carrom.
Over the years, IndianOil has recruited over 100 sportspersons including cricketers Rohit Sharma, Cheteshwar Pujara, Ajinkya Rahane; shuttlers P Gopichand, K Shrikant, P Kashyap; athlete Hima Das, paddlers Sharath Kamal, Manika Batra; hockey players Devesh Chauhan, Deepak Thakur, Prabhjot Singh; tennis players Rohan Bopanna, Divij Sharan, Sumit Nagal; and many more.
Date:10/12/2019
IndianOil receives Super Buyer Award - 2019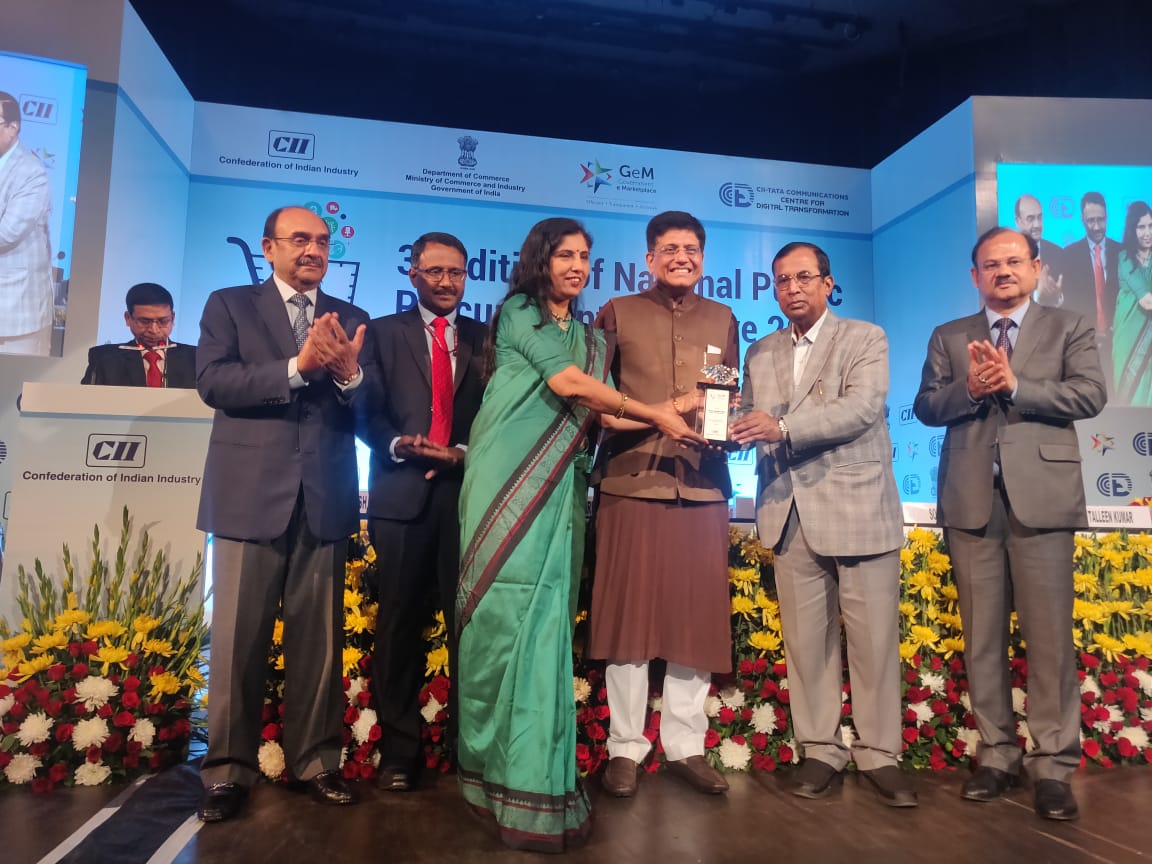 Mr. Piyush Goyal, Union Minister of Railways and Commerce & Industry, and Mr. Som Prakash, Minister of State for Commerce & Industry, felicitate IndianOil with Super Buyer Award-2019 for excellence in Government e-Market Place (GeM) procurement.
Date:04/12/2019
The International Air Transport Association honours IndianOil with Award of Recognition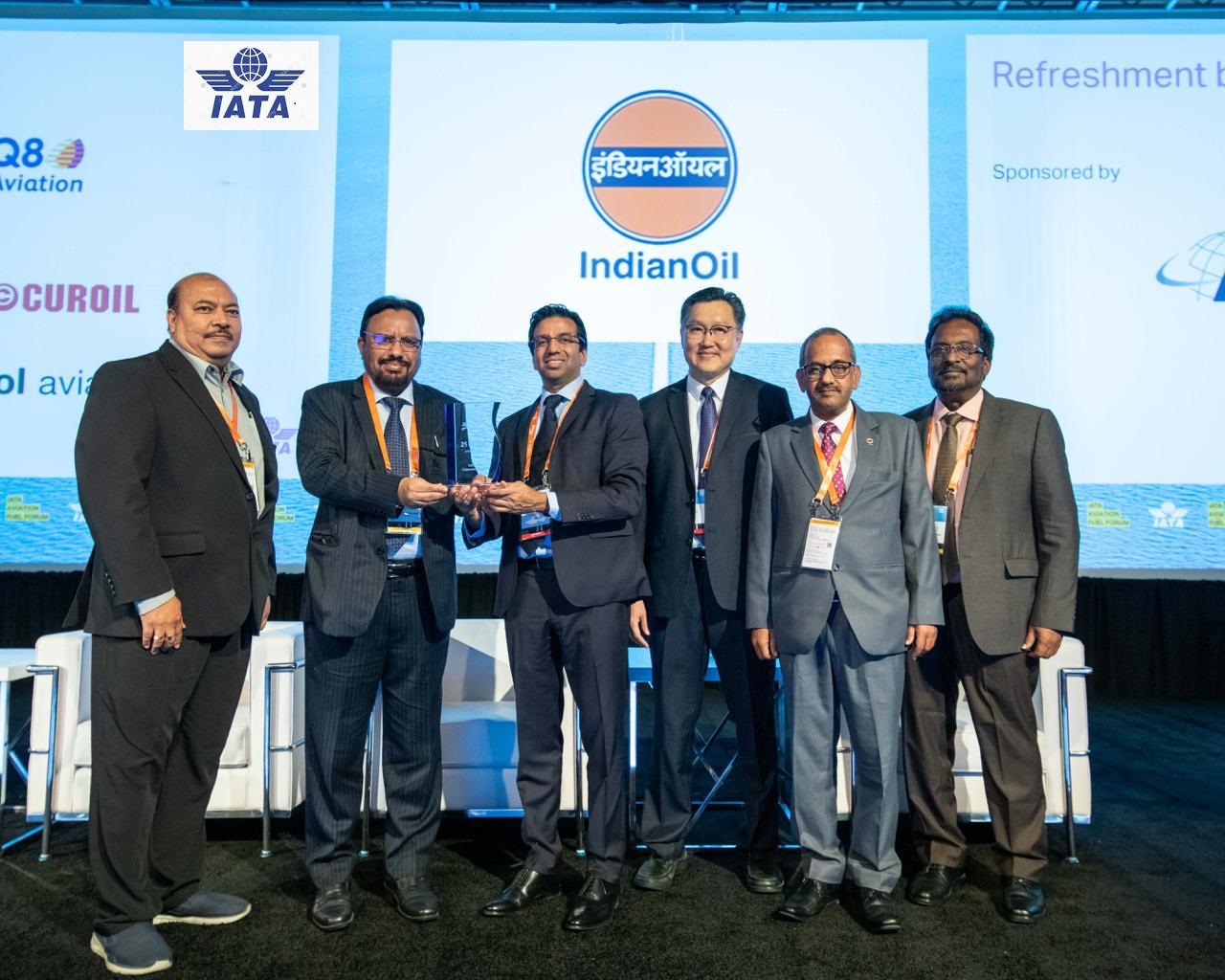 IATA honours IndianOil with Award of Recognition at the ongoing Fuel Forum in New Orleans, USA; Mr. Gurmeet Singh, Director (Marketing), IndianOil receives the award on behalf of the Corporation
Date:04/07/2019
IndianOil: Voted as A great place to work!
IndianOil has been yet again voted a Great Place to Work for the year 2019. It has been recognized as one of India's Best Workplaces and ranked 29th on the list featuring business, academia and government organisations in the country.
READ MORE +
The Great Place to Work citation recognizes IndianOil "for inspiring trust among your people, for instilling pride in them, for creating an environment with the workplace that promotes camaraderie and for many other reasons that make your organization one of India's best companies to work for."

Accepting the recognition on behalf of the IndianOil family in a function held recently at Mumbai, Mr. Gurmeet Singh, Director (Marketing), IndianOil, said "To be recognized yet again as a Great Place to Work, while energizing every corner of the country, stands true to the commitment and passion of IndianOilPeople."

Instituted by the Great Place to Work (GPW) Institute, in collaboration with the Economic Times (in India), this annual survey sees over 10,000 organisations from over 58 countries partner GPW Institute to assess, benchmark and plan actions to strengthen their workplace culture. All organisations that nominate themselves for the list undergo an assessment. As part of this assessment, all organisations are evaluated on parameters such as quality of employee experience (carries 2/3rd weightage) and the quality of people practices of an organisation, covering the entire employee life-cycle (carries 1/3rd weightage).
Date:26/06/2019
IndianOil voted as the Most Trusted Fuel and Lubricant Brand
For another successive year, IndianOil has been voted as one of the Most Trusted Fuel and Lubricant Brands in the country. IndianOil and its lubricant brand SERVO have been awarded the Reader's Digest Trusted Brands (2019) title.
READ MORE +
IndianOil was chosen as a trusted brand in Automobiles – Petrol Stations category while SERVO earned the recognition in the Automobiles – Lubricants category.

Voted only by consumers, the Reader's Digest Trusted Brand survey 2019 was conducted with Ipsos, a globally renowned research agency. The survey, held across 15 Indian cities, asked consumers to name the brands they trusted most and rate them on parameters such as quality, value, innovation, social responsibility, brand image, consumer recommendation and reputation.

Instituted in 1998 by the Reader's Digest, the Trusted Brand Award is a benchmark for the most-admired brands in the Indian market place – honouring excellence and quality. The award serves as a smart buyer's guide, helping the Indian consumer make and efficient and informed choice. This annual survey has established itself as a premier, consumer-rated measure of brand excellence.
Date:04/06/2019
IndianOil bags award for Innovative CSR practices
IndianOil was awarded 1st amongst PSUs in "3rd Innovative Practices Awards, 2019 for Sustainable Development Goals (SDGs)" category by UN Global Compact Network India (UN GCNI) during a felicitation ceremony held on 31st May, 2019 at Mumbai.
READ MORE +
Global Compact Network India works as a country level platform for businesses, civil organisations, public and private sector, aids in aligning stakeholders' responsible practices towards the ten universally accepted principles of UNGC in the areas of human rights, labour, environment and anti-corruption, broad goals including sustainable development goals and other key sister initiatives of the United Nations and its systems.

A well documented dossier depicting activities of IndianOil CSR initiatives was prepared and submitted as a part of the award process. As per rules of the competition, since one project was to be showcased with linkages to multiple sustainable development goals, success story of our flagship CSR project, Skill Development Institute, Bhubaneswar (SDI-B), was documented and submitted. IndianOil was among the top 11 companies, shortlisted for presenting the success stories of their respective projects on 25th May, 2019 at UNESCO, New Delhi.

Skill Development Institute, Bhubaneswar (SDI-B) was established on 9th May 2016 with an aim to provide opportunities for skilling and livelihood to the unemployed and underprivileged youth of Odisha and to provide skilled manpower to the industry. Initially, SDI-B started skilling in 2 trades, viz. industrial electrician & welder. However, with increasing demand of skilled manpower in the market, 6 new courses were added to SDI-B, viz. Computer Data Application (only for girls), Fitter Fabrication, Instrumentation Technician, Pipe Fitter–CGD, Solar PV Installer, and LPG Mechanic. As on date, about 240 students per batch are being skilled in 8 skilling courses of 3 to 6 months duration each. Hon'ble President of India laid the foundation stone of the permanent campus of SDI-B on 18.03.2018 near Taraboi, Jatni, Odisha which will be a mega-world-class model skill academy to be set up with technical support from National Skill Development Corporation (NSDC). Once functional, about 3,000 to 4,000 youth will be trained every year in 16 regular trades pertaining to the hydrocarbon sector and local industries.

Out of the total 17 SDGs, SDI-B aligns with following 5 SDGs:
Goal -1: End poverty in all its forms everywhere
Goal-4: Ensure inclusive and equitable quality education and promote lifelong learning opportunities for all
Goal-5: Achieve gender equality and empower all women and girls
Goal-8: Promote sustained, inclusive and sustainable economic growth, full and productive employment and decent work for all
Goal-10: Reduce inequality within and among countries
On behalf of IndianOil, Mr. S. G. Bhagwat, CGM (ER), Marketing HO, Mumbai and Mr. N. N. Rao, CEO, SDI-Bhubaneswar received the trophy and citation.
Date:08/04/2019
IndianOil is Outstanding PSU of the Year at AIMA Managing India Awards-2019
The All India Management Association (AIMA), the apex body of management professionals in the country is committed to enhance business excellence through its multifaceted activities.
READ MORE +
The All India Management Association (AIMA), the apex body of management professionals in the country is committed to enhance business excellence through its multifaceted activities. Thus, every year in order to recognize excellence in Management, Entrepreneurship and Leadership, AIMA confers Managing India Awards. Instituted in the year 2010 , over the years, AIMA Managing India Awards have become one of the most coveted leadership honours in the country and are greatly valued.

This year an independent jury headed by Mr. Sanjiv Goenka, Chairman,RP-Sanjiv Goenka Group declared the awards under which 11 eminent personalities of the country have been chosen to receive the prestigious award for their contributions under various categories.

Mr. Sanjiv Singh, Chairman received the Award from Mr. Pranab Mukherjee, former President for IndianOil's recognition as the Outstanding PSU of the Year at a glittering ceremony organized today in the Capital . Other business personalities who were honoured are Mr. Pawan Goenka (Mahindra & Mahindra, Indian MNC of the Year), Dr. Devi Prasad Shetty ( Narayana Hrudayalaya Ltd, Corporate Citizen Award); Prathap C Reddy (Founder Apollo Hospitals Group, Outstanding Institution Builder) and Mr. Azim H Premji ( Wipro Ltd, Lifetime Contribution Award).

The AIMA awards 2019 honoured a galaxy of leaders who are contributing nation building through their vision and a commitment to a larger purpose going beyond business.

It was a indeed proud moment when IndianOil was introduced as an exceptional organization that provides solutions to power the nation, its 50,000 customer touch points catering to about 50% of the nation's petroleum products demand. A future ready organization that is growing under the visionary leadership of Chairman, Mr. Sanjiv Singh creating capacities across the hydrocarbon chain.

The AIIMA award function is being followed by the 5th Leadership National Conclave on Tuesday,9 April 2019 where the theme is- "Now or Never: India's Mission for the New Decade."

Chairman, IndianOil will be participating in the panel discussion –Surviving Disruption: Create the Future, where the other panelists would be Sanjiv Mehta, CMD of Hindustan Unilever Ltd; Sanjiv Bajaj, MD, Bajaj FinServ and the moderator would be noted TV journalist Vikram Chandra.