Commercial/Reticulated LPG
Indane XTRATEJ – Commercial and Industrial LPG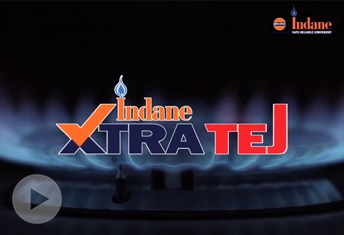 Indane is today one of the largest packed-LPG brands in the world and has been conferred the coveted Consumer Superbrand status by the Superbrands Council of India.
IndianOil markets its differentiated LPG with nano-additive under the brand name Indane XTRATEJ, for commercial and industrial applications. Indane XTRATEJ results in reduced fuel consumption and more savings, due to the improved heat output/efficiency. This has been possible with the indigenous additive developed by IndianOil's R&D division.
Indane XTRATEJ has been evaluated in laboratories and validated at customer sites during the field evaluation. The following benefits have been observed during the field trials:
Savings of minimum 5% in consumption of LPG at different customer sites.
Reduction in cooking time by minimum 14% when pressure cooking
Increase of flame temperature by ~ 65℃ at select customer sites
A minimum savings of 5% in the use of LPG and rise in flame temperature by ~ 65℃ have been independently verified and certified by Shriram Institute for Industrial Research, Delhi

Commercial/Reticulated LPG
Besides supplying domestic Indane LPG cylinders to households, IndianOil also markets commercial LPG cylinders in 19 Kg and 47.5 Kg capacity. The commercial LPG cylinders are available at market rates and customers can avail of the superior energy efficiency of LPG in their commercial establishments like canteens, hotels or even in industrial and fabrication works like cutting, welding, heating etc. Besides the regular Indane LPG cylinders that are delivered to doorsteps, IndianOil also offers reticulated LPG systems for large residential apartment complexes and establishments. Such systems are cost effective and the gas lines laid to individual homes draw from a bank of LPG cylinders stored safely in a dedicated place in the building.
Contact IndianOil for commercial LPG in packed and bulk form and for reticulated LPG systems in domestic, commercial and industrial units.
We Are Listening