Safety, Health & Environment Management
Safety management is an integral part of overall management system at IndianOil. IndianOil is committed to ensure safety and health of its people and has demonstrated its leadership in the field of Health, Safety and Environment by setting up Safety & Environment Protection Departments at Divisional level and establishing Occupational Health Centres at the refineries at an early date. All IndianOil refineries are certified under 'Occupational Health and Safety Management System (OHSMS)/OHSAS-18001 by DNV, Netherlands. Safety systems are audited under 'International Safety Rating System' (ISRS) to assess the effectiveness of the current system. IndianOil ensures fire prevention and safety through continuous audits, employee involvement, training and management.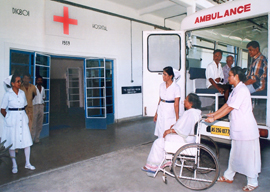 IndianOil Management is totally committed to provide safe workplaces and take all possible measures to ensure that activities are carried out in such a manner that there is no injury to any personnel, no damage to any equipment and environment is not adversely affected. A well-defined Health, Safety and Environment Policy is followed in IndianOil and adequate resources are allocated for effective implementation of the policy, to achieve the highest standards of safety.
All IndianOil refineries have Environmental Management Systems certified to ISO 14001. Re-use of treated effluent is extensively practiced at all refineries. IndianOil's Pipelines and Retail Outlets have also received ISO-14001 certification. IndianOil's locations that are accredited with ISO include refineries, pipelines, aviation fuel stations, quality control laboratories, LPG bottling plants and tap-off terminals.
With its vast experience in successfully implementing Health, Safety and Environment policies in its various units, IndianOil also offers its services in ensuring client's work environment is safe and healthy and to keep the environment clean.
Contact Us

Sandeep Jain
Executive Director
Business Development

Indian Oil Corporation Limited
IndianOil Bhavan
1, Sri Aurobindo Marg,
Yusuf Sarai,
New Delhi - 110016
011-26524707
sandeepjain[at]indianoil[dot]in